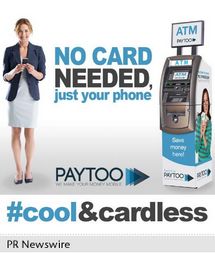 FORT LAUDERDALE, Fla., July 15, 2014 /PRNewswire-iReach/ Today, Cardless ATM is a reality for banked people but not for the unbanked. In keeping with its tradition, PAYTOO is the first Mobile Wallet to offer this solution to the unbanked population.
Source: www.broadwayworld.com
The 1 st ATM was delivered on July 1 st in Florida and after a 90-day testing period testing, a nationwide deployment of several thousands will be done.